Minutes of a meeting of the Finance Committee held in the Council Chamber, Windmill Lane, Northam on Tuesday 2nd December 2009
PRESENT: Chairman - Cllr B M Edwards
Members - Cllrs Mrs S Collins, R Johnson (in substitution for Cllr R Osborne) C K Langton
Others Member in attendance – Cllrs P Hames
Apologies were recorded on behalf of the Town Mayor, Cllr R H Osborne
1. Minutes
Minutes of the meeting held 17th November 2009 were approved and signed.
(Vote: Unanimous)
2. Budget for 2010/2011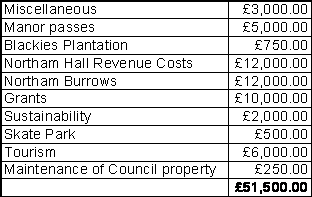 Members considered the Receipts and Payments account produced by the Town Clerk and attached to these minutes. It was estimated that income for the next financial year was £145,680. Expenditure for 2010/1011 is estimated at £200,500 which is made up of £86,600 of core funding plus Town Projects items of £62,650 and other expenditure as follows:-
The Town Clerk explained that at the end of this financial year there is likely to be a total balance in the order of £170,000. The Council's policy is to hold £100,000 in reserve and therefore £70,000 will be available to go forward to assist next year's expenditure. It follows, therefore, that available funds next year will be made up of £145,680 of income and £70,000 from balances making a total of £215,680. Therefore the Council's anticipated expenditure can be contained by maintaining the precept at £100,000. However, Members thought it prudent to increase the precept by a small amount in order to protect future years' expenditure and to avoid dramatic rises in the future. It was therefore recommended to Council that the precept be set at £105,000.
With regard to the figure allowed for tourism, Cllr Johnson proposed that this be included to assist in the funding in the setting up of a website which would be dedicated to tourism in this area.